Artist Serena JV Elston brings her Fruitful Bodies fungi sculpture series exploring violence against women through mushroom laden bodily forms to Dream Farm Commons in Downtown Oakland.
Exhibition Ends Saturday, January 30th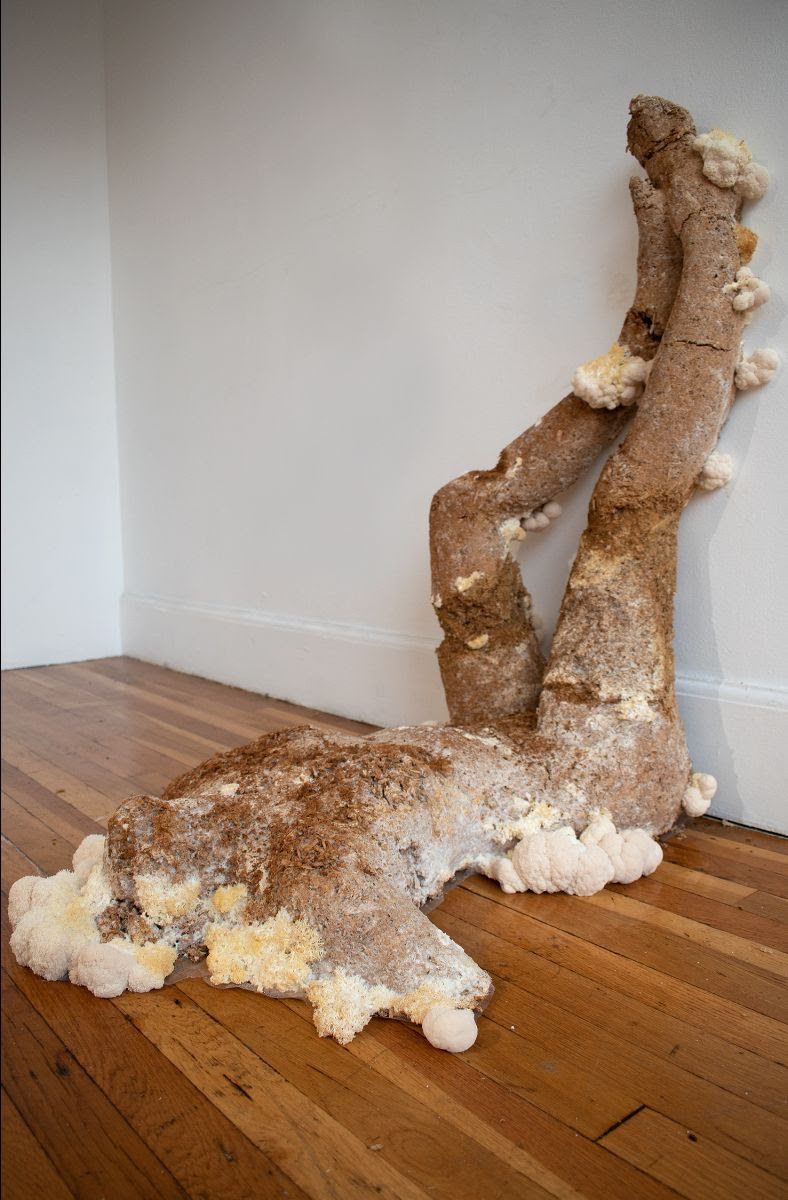 Fruitful Bodies is an exploration of violence against women via a series of sculptures grown from mushrooms. The work draws on Greek mythological themes to illustrate a loss of agency for both the female body and the natural world. The exhibit opened at Dream Farm Commons in Downtown Oakland on January 8th and ends January 30, 2021. The sculptures are visible from the street and free to view.
 
Elements of this body of work are grown from mushroom species with distinct qualities and paired to types of nymphs, female spirits of nature. These female figures without a head or hands are displayed crawling towards an open window in the gallery. Failing to escape, she collapses in situ and her flesh transmogrifies. Lacking these appendages, the victim cannot be identified. This could be any one of the multitude of nymphs, dryads, orades, or naiads that have suffered the same fate. In myth, the only defense these demigoddesses possess is to relinquish their ichor, the power of divinity that flows in their veins. Under duress, they metamorphose into a natural formation, a stream, a stone or a species of tree, to avoid predation. This process is permanent and their sacrifice extinguishes any agency they once possessed.
 
Specifically, these transformed feminine bodies become resources for human consumption. The grotesque composition of Fruitful Bodies offers an allegory for western civilization's cultural domination over nature, to wit, the ubiquitous pattern of extractive policies towards nature through the commodification of women's bodies. Date: Though Saturday, January 30
Time: The exhibition can be viewed from outside looking in, day or night or visited inside by appointment with the artist
Location: Dream Farm Commons, 349 15th St, Oakland, CA 94612Cost: FREE About Serena JV Elston
 Serena JV Elston (USA 1987, BFA) is an ancient futurist. Her art asks: in this modern technological race for the new, what have we left behind that we should weave back in again? As machine-based technology increasingly integrates into every aspect of our lives, we crave experiences that make us feel authentic and spontaneous. Her work leverages that collective loneliness to create participant-generated mythology that constitutes the changes necessary for our continued existence together on this earth. By recontextualizing our origin stories, her work explodes the axonometrics of narratives that no longer serve us. Her research-based practice investigates the disciplines of architecture, agriculture, and ancient history to search for those forgotten tools that connect us to the land, to the people, and to ourselves because in a world defined by its traumas art can be liberatory.
Serena received a BFA in Architecture and Sculpture from MassArt. She was awarded the Bay Area Visual Artist Exhibition Production Relief Grant from Ever Gold [Projects]. She was the 2020 artist in residence at Dream Farm Commons, a gallery in downtown Oakland, CA. During which she exhibited with the group show Future Emergent: Visual Narratives for a Planet in Crisis and Possibility. In 2018, she constructed Siren Island, a floating platform on which performances and other immersive events take place. In October 2020 her first international work was shown by VideoDrome Paris & S.O.F.A. in Lucca, Italy.  She will be in residency at Tiger Strikes Asteroid in Los Angeles from February through March 2021.


About Dream Farm Commons Dream Farm Commons 

Dream Farm Commons is an experimental exhibition and project space located on 15th and Webster street in Downtown Oakland with a focus on the creation of socially engaged sculpture and social practice works, The site was founded by 3 visual artists and is creatively sustained by six artists/future thinkers. In our work, we claim aesthetic agency, those abilities of the visual, poetic, and performative to seep into consciousness and both retrieve the past and foreshadow the future. Before the pandemic, we made monthly to bi-monthly exhibitions, social practice projects, residencies, pop-ups, dinners, workshops and performances. During the pandemic, we have continued programming with multifaceted exhibitions seen from street side, virtual events, mail art, residencies and mutual aid support.